Localisation Automation (CMS PLUGINS)
Localisation plugins that will save you hours of effort monthly
If you store content in a website CMS or e-Commerce app, downloading it manually and sending it over to your translation vendor is a time killer. Moreover, erroneous data is inevitable. CMS plugins will help you to automate the website translation process in few minutes without coding, connecting your website or e-Commerce apps seamlessly to our cloud technology-enabled translation management platform.
How It Works
Once the automated localisation process is established, web pages or product updates can be pushed over to AISA translation platform, and to be translated in target languages by leveraging our artificial-intelligence (AI) technology and linguistic resources. When a translation project is completed, the translated contents will be pushed back automatically to the website for internal review before publishing. Subsequent content update can be pushed over to our platform for translation project update. This can be carried out on a continuous fashion empowered by API technology!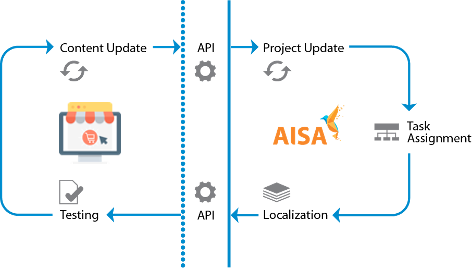 Compatible With Content Management System (CMS)
Our CMS plugins are able to support and compatible with the most common CMS and E-Commerce solutions in the market, such as WordPress, Drupal, Joomla, Magento and WooCommerce.

Connected API for Cloud Storage
How about if you are using other CMS solutions, or you have customised web files or software strings to be localised? No worries. You are still able to organise such files and send them over to our translation platform safely for localisation, if you are using popular cloud storage such as Google Drive, Dropbox, Box, OneDrive. Thanks to our API technology!
Our API technology is also capable of connecting with other thousands of applications via Zapier.