Localisation Automation
Localisation plugins that will save you hours of effort monthly
If you store content in a CMS such as WordPress, Drupal, Magento or even GitHub, downloading it manually and sending it over to your translation vendor is a time killer. In this case, localisation plugins will help you set up a process, where any new or updated content gets pushed for translation and pulled back automatically.
How it works
Once the automated localisation process is configured, the process looks like this: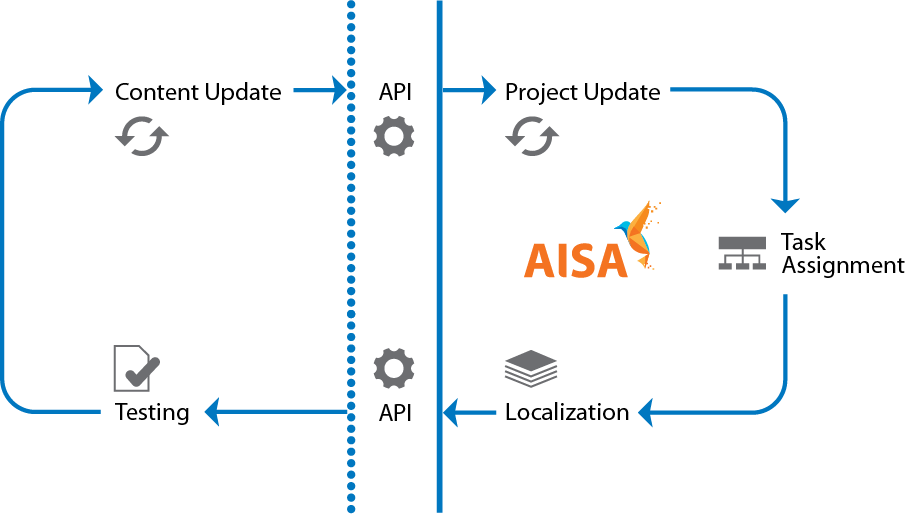 On the right, you have a translation management system (TMS) where the translation magic itself takes place. On the left, you have your own systems with content released, tested, and published as needed. All connected via an API in an automated fashion and requiring little or no human involvement apart from translation itself.
What localisation plugins exist
Thanks to an open architecture of AISA's TMS , the number of supported integrations is virtually unlimited. However, the most common and tested use cases are the following:
Content Management Systems
WordPress
With a 60% share of market and a diverse user base, WordPress is the clear leader in the world of content management. AISA lets you localise your WordPress blog or website on the fly.
Joomla
Slightly harder to learn but much more flexible, Joomla is especially popular among webmasters who don't want to follow in others' footsteps. AISA has a localisation plugin for Joomla, too.
Drupal
Where large corporations are involved and stakes are high, Drupal often beats WordPress and Joomla thanks to its reliability and technical edge. And we've got it covered as well.
Magento
When it comes to e-commerce, there's no platform that is more flexible and powerful than Magento. As e-commerce websites have tons of content published every week, its automated localisation is a no-brainer.
Version control systems
Git
If you are a software company, you are 80% likely to store your strings with Git. And, please, the tech-savvy people you are, save yourself from the nightmares of manually translating them. Automate!
Mercurial
It's not git, but it still has Facebook, Mozilla, and W3C on its roster. You want to join the club of the biggies? No problem. Automated localisation for Mercurial is just as easy as it is for Git.
Apache Subversion
A while ago, SVN used to be the #1 of version control systems. And even though these days are gone, it still has its fans. Are you one of them? Localise your SVN repo in an automated fashion!
Cloud storage
Google Drive, Dropbox, Box, OneDrive — there are many brand names in here, but the essence is the same: You have a cloud folder, and you store your localisation strings there — most often in some kind of multilingual, multi-column Excel file.
The problem is managing and safeguarding such files against accidental mingling and mangling. But if you connect these files to AISA's TMS via a localisation plugin, you won't have to bother about access rights anymore. Each string will go to the translator or translation vendor in that target language, and to no one else. Once all translations are ready, they will go back to the right columns of your Excel file. Simple as that!
Are you ready to stop wasting time on non-productive effort? Then it's time to deploy automated localisation together with AISA!